Roster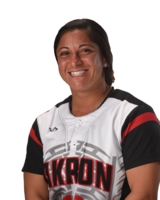 Active
Kelley Montalvo
#10
Position: 3B
Date of Birth: 07/24/1987
Height: 0' 0" Weight: 0 lbs
Pro Experience: Akron Racers (2010-Present)
Bats: R
Throws: R
Birthplace: Miami Lakes, Florida
Biography:
TRANSACTION HISTORY:
Signed as a free agent by the Akron Racers prior to the 2010 season.

Re-signed with the Racers on 2/13/12.

Akron extends Montalvo's contract on 1/27/14.

The Racers re-signed Montalvo through the 2017 season on 10/29/15.
2017 SEASON (AKRON RACERS):
Played in her record 300th game in a Racers uniform on 6/1/17.

Played in 49 games in her eighth season in Akron.

Tabbed 27 hits, 20 runs, 4 doubles and 2 home runs.

Finished fourth in the NPF with 75 defensive assists.
2016 SEASON (AKRON RACERS):
2016 All-NPF Third Baseman, her third consecutive All-NPF Selection.

Montalvo tied Lisa Norris in her seventh season as the longest tenured Racers.

Finished third in the NPF with 84 assists and had a .979 fielding percentage.

Set personal season bests with 49 games played and 31 hits.

Batted .231 with 22 runs scored and 17 RBI.
2015 SEASON (AKRON RACERS):
2015 All-NPF At-Large selection

Montalvo played in 46 games, recording 32 hits, 4 home runs and 16 RBI.

Her four home runs remain a personal single season best.
2014 SEASON (AKRON RACERS):
2014 Jennie Finch Award winner and All-NPF At-Large selection.

Played in 47 games, recording 28 hits, 20 runs scored and 24 RBI.

Hit a walk-off, two-run home run on 8/7/14 against the USSSA Pride.
2013 SEASON (AKRON RACERS):
Led NPF third basemen with a .959 fielding percentage.

Hit .221 with 2 home runs, 3 doubles, 1 triple and 11 RBI.
2012 SEASON (AKRON RACERS):
2012 NPF Co-Defensive Player of the Year.

In 44 games played, had 17 hits and 14 runs scored, while driving in 7 RBI.

Recorded a .978 fielding percentage.
2011 SEASON (AKRON RACERS):
Recorded 16 hits, 12 runs, 2 doubles and 1 home run.

Hit her first NPF home run on 6/22/11 in a 2-0 win over the NY/NJ Comets.
2010 SEASON (AKRON RACERS):
Played 33 games her rookie season, with 9 runs, 12 hits and 3 RBI.

Made her professional debut on 6/10/10 as the designated player and recorded her first hit in the NPF.
COLLEGIATE HIGHLIGHTS (ALABAMA):
Set the Alabama school record for walks in a season with 52 in 2009.

2009 Easton and NFCA 1st Team All-American

2x All-SEC 1st Team selection

2x All-SEC Defensive Team

2009 WCWS All-Tournament Team
PERSONAL:
Daughter of Fernando and Grisel Montalvo.

Has a younger brother, Julian, and a younger sister, Angie.

Born in Miami, Florida on 7/24/87.

Bachelor's Degree in Communications & Broadcasting.
Career Statistics »
| Year | League | Club | GP | AVG | AB | R | H | 2B | 3B | HR | RBI | BB | SO | SB |
| --- | --- | --- | --- | --- | --- | --- | --- | --- | --- | --- | --- | --- | --- | --- |
| 2017 | NPF | Racers | 49 | .221 | 122 | 20 | 27 | 4 | 0 | 2 | 5 | 14 | 20 | 0 |
| 2016 | NPF | Racers | 49 | .231 | 134 | 22 | 31 | 4 | 0 | 3 | 17 | 23 | 27 | 1 |
| 2015 | NPF | Racers | 46 | .246 | 130 | 9 | 32 | 5 | 1 | 4 | 16 | 13 | 22 | 0 |
| 2014 | NPF | Racers | 47 | .215 | 130 | 20 | 28 | 4 | 1 | 2 | 24 | 12 | 24 | 0 |
| 2013 | NPF | Racers | 41 | .221 | 113 | 11 | 25 | 3 | 1 | 2 | 11 | 15 | 17 | 4 |
| 2012 | NPF | Racers | 44 | .202 | 84 | 14 | 17 | 5 | 1 | 3 | 7 | 15 | 16 | 0 |
| 2011 | NPF | Racers | 39 | .157 | 102 | 12 | 16 | 2 | 0 | 1 | 5 | 27 | 27 | 1 |
| 2010 | NPF | Racers | 33 | .176 | 68 | 9 | 12 | 1 | 0 | 0 | 3 | 9 | 20 | 2 |