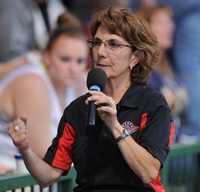 Joey Arrietta
Owner/GM
Phone:
330.376.8188
E-mail:
Ms. Joey Arrietta became the first General Manager of the Akron Racers in 1998, while completing her final two years of employment at the University of Akron. Arrietta took over the Racers' coaching duties in 1999, leading them to the WPSL Championship Game. Arrietta's efforts won her the 1999 General Manager of the Year honors in the Racers first season in the WPSL. As the GM of two WPSL teams, the Ohio Pride, under Arrietta's watch, reached the title game in 2000.

The WPSL suspended play in 2001 to research and create a new team management model. The league changed its name to the National Pro Fastpitch and began play in six cities in 2004. The Racers returned with Arrietta at the controls once again. The Racers posted an exciting come-from-behind victory to defeat Jennie Finch and the Chicago Bandits to win their first NPF Championship in 2005.

Arrietta is no stranger to building from scratch. She took over the University of Akron softball program in 1978 and converted the slowpitch program to fastpitch in 1980. Arrietta guided the Zips to back-to-back NCAA Division II national runner-up finishes in 1984 and 1985. The Zips posted a 99-16 record including a 25-game win streak in 1984. Arrietta remains one of the most successful coaches in UA athletic history with a 359-135-4 record.

With the full support of the City of Akron, Arrietta has brought numerous state, regional, and national events to Akron. These include the 2007 NCAA II National Championship, seven Mid-American Softball Tournaments and numerous amateur softball tournaments and all-star events as well as the 2009-2010 PONY National Championship. The home of the Racers is also the current site for the OHSAA State Softball Tournament.

Joey has been inducted into the Summit County Sports Hall of Fame, the University of Akron Hall of Fame and the Akron Amateur Softball Hall of Fame. Most recently, Joey was given the 2009 Zenith Friend of Hospitality Award in recognition of her contributions made to Akron & Summit County's Hospitality Industry.