10-Game Flex Pack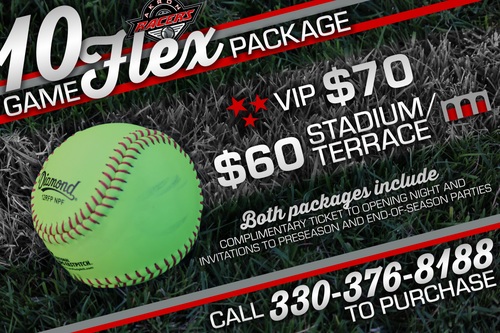 10-GAME FLEX PACK

Are you planning on attending several Racers games this season but can't commit to a full schedule?
Check out our 10-game flex pack! Each 10-game pack offers flexibility and fun at a
discounted rate, allowing you to select the Racers games that fit your busy schedule.
How does it work?
A complimentary ticket for Opening Night 2017 is provided with each package purchased.
Each package contains an invitation to the preseason and end of the season party!
Choose the 10 games that best fit your schedule.
VIP 10 Game Flex Pack - $70
Stadium 10 Game Flex Pack - $60
Terrace 10 Game Flex Pack - $60

To order a 10-game flex pack, contact the Racers ticket office by calling
330.376.8188 to speak to a ticket representative today!